The efforts listed below have all achieved success.
Some are still available.

©2011
Poetry from the heart, mind, and current events. On Amazon.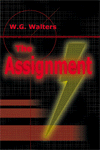 ©2000
Short novel about the first manned mission to Mars and on
to Jupiter, with strange experiences along the way.
121 pages. On Amazon.


©2005
In Marrow IV, available only at the Barnes & Noble
on Bay Area Boulevard at I-45 near Galveston.


©1998
About how confusing aliens could find us to be.


©1997
Poem about misunderstandings and redemption.


©1987, revised 1994
Short-short (750 words) about a game show 300 years in the future.

©1987
A self-reflective poem.