What do I do for a living?
Two things. First:
I am a writer.
Here's one of my less serious bits:

When screaming matches fill the room
And visuals show doom and gloom
Oy! Me mind go BOOM!

When cop cars take their time to pass
When scanty clothes are on a lass
Oy! Me mind go BOOM!

A question with an open end
With no attention to the end
To whom the message should be sent
Not knowing where the message went
Oy! Me mind go BOOM!

Taking time away from me
Because it went to me, not she
Oy! Me mind go BOOM!

Think it's not a job? Well, there's someone on the internet who said when a writer sits at his desk staring at a sheet of blank paper, head in both hands, and sharpened pencil easily within reach for four hours, he IS working. There's no way I can deny that!

So, why do I write? A writer's purpose is simply to inform. That can be done through many forms of writing, including novels, scripts, journalism, and speeches. Therefore, a while back, I began working on a tutorial for anyone who writes or has ever had the desire to write. I'll probably finish it in the future; for now, I'll use my blogs to do that.
---
Second:
I am an artist.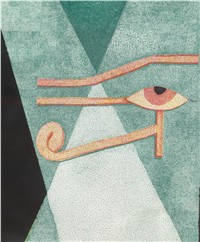 I primarily do three forms of art.

First, I stipple. The above is one example. Stippling is to ink as pointalism is to paint. I simply start dotting whatever canvas I am using until I gain the desired effect.

I learned stippling taking an artistic design class. The above drawing is one piece from that class, done in green, red, and yellow pens with the dark sides painted in an ultra-dark green acrylic. (Too much black paint. Waaaay too much black paint.)

Most of my stippling is in the primary subtractive colors (red, yellow, blue) only, but occassionally I'll use a brown because of how difficult that color is.

Second, I do black and white inks.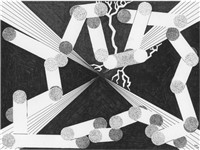 Non-objective is simply where the viewer sees what they see; nothing specific is intended by the artist.

The last is chiaroscuro. This is just clever use of shading.
.

This is especially useful with my black and whites.

I also do the occassional colored pencil piece, but those are rare.

For more of my work, click the link at the top of the page.
---
Some of you (read: English majors) have noticed that I did not use periods after my initials. That is not a mistake. It's a statement. Keep in mind that e.e. cummings never used capital letters. It's sort of like that.
---
Vital Statistics:
Height: 5'7"

Heritage: French, Irish, and Scottish

Current Home: Houston
Past Home: Socorro, New Mexico

Sexual orientation: Straight as a whistle, but my likes make people think otherwise. (Art, theatre, Michael Bolton...)

Marital status: Committed relationship

Drink: Occassionally

Smoke: No, I've known victims of Big Tobacco

Religion: As of November 23, 2008, I am a catechumen for the Orthodox Church. I'm in full agreement with the protests that claim churches chain you to dogma. Christianity isn't about dogma and blindly following rules, it's about faith. That's one reason why I like Orthodoxy: It's more about faith than dogma. I attend a small parish outside of Houston.

Past Endeavors:

2002-2003
In this shop, I had equipment for chess, backgammon, darts, horseshoes, mah jongg, croquet, and others, too, and taught a few classes while the store was open.


Education:

Yes, it looks odd, but there's a method to the madness. My plan is my own production company, Purple Sky Productions, specifically made for science fiction. Three films are currently in preproduction, including a film version of The Assignment.
All Time Favorites
Actors:
Keifer Sutherland
Charlie Sheen
Bruce Willis
Nicholas Cage
Actresses:

Tracey Gold
Christina Applegate
Mila Kunis
Janine Garofolo
Courtney Thorne-Smith
TV Shows:

That '70s Show
Space:1999
Babylon 5
Married . . . with Children
Sliders
24
Reality TV:
Game Shows:

Press Your Luck (1983-1986)
Hollywood Squares (all versions)
Match Game '76
Break the Bank (1975)
Blockbusters (original)
Movies:

Citizen Kane
Mystery Men
12 Monkeys
Young Frankenstein
Being John Malkovich
Musicians and Singers:
Sport: Soccer
Team: Houston Dynamo
Style of Food: Chinese, Mexican
Favorite restaurant: Tequila Patio, 23237 Aldine Westfield 77373
Fast Food: Arby's
Drink: Earl Gray tea
Soda: Grape or Pineapple
Writers:


Myself :-)
H.P. Lovecraft
Alistair Reynolds
Carl Sagan
Aristotle
Robert Jordan
Seamus Heaney
Artists:

Myself :-)
Vincent van Gogh
Pablo Picasso
Georgia O'Keefe
Special mention of Kartik Trevedi
Photographer: Olan Mills. Just kidding, it's a friend of mine named Vladislov Yusokov. He came over from Russia a few years ago, and I really think he could make it big.
Musical Instruments:

Blues tenor saxophone
Blues trombone
Romantic English horn
Concert piano
To play: Marimba

Sexual Position: Even Penthouse would censor it . . .

High School Subject: Creative Writing
College Class Taken: (Business) Organizational Behavior
College Class Taken: (Film) Studio Production

Password: Oh, please! Do you think I'm nuts!?
Likes and Dislikes
Likes

Dislikes

Jim Carrey

Pauly Shore

Linkin Park

Tiffany

Star Trek: Deep Space 9

Star Trek: Voyager

Ancient Egypt

Ancient China

Cricket and Rugby

Australian Rules Football

Complete Information

Just enough info to back up the lie

Understanding why

Letter of the law

A calzone with an antepasto

Smothering spaghetti in sauce

Pizza with pepperoni, black olives, and mushrooms

Pizza with lettuce

The real person

Presenting a certain image
(This is why I don't like Lady Gaga)

Scientifically and historically accurately portrayed movies and television

Movies and television where something happens that never happens in real life, such as constant velocity in space while the thrusters are running

Reading poetry, science fiction, and fantasy

Reading mysteries and action

Considering the primary source

Accepting what others say

People who blog to educate people

People who blog every detail of their lives, or their children's lives

Writing my own HTML

MySpace

Omelet and apple juice

Cold cereal and orange Juice

Getting to know someone

Internet or blind dating

My coffee grinder

Starbucks

New Mexico: Gorgeous!

Arizona: Bleak!

Spider-Man

Batman

Item-specific stores

Wal-Mart

Bruce Willis

Tom Cruise

Wrestling

Boxing

Tea

Energy drinks
If I could be friends with one celebrity: Deborah Gibson. Of all my favorites, we could probably get along on a creative level.

City I want to visit: Washington, DC. I was there when I was 12, but was too young to understand.
Foreign city I want to visit: London

State I want to visit: Alaska
Country I want to visit: Egypt

The moment I remember most from high school: I was walking down the hall after lunch. As I passed the boy's restroom, the door opened and several boys flew out in terror. A moment later, three girls came out, followed by a teacher with a look on her face I hadn't seen before and haven't seen since.

The moment I remember most from college: At New Mexico Tech, Spring Break is filled with all kinds of things, including an (unauthorized) scavenger hunt. After Spring Break, all Monday classes in one classroom were cancelled because a team fulfilled one item on the list: All 120 seats, which were bolted down, had been turned backwards. The moment I remember was hearing that although the team took two hours, the crew assigned to fixing it took all day.

My opinion of guns: I think ranged weapons are for cowards. Small weapons that can be hidden for sneak attacks, like daggers, are also for cowards. I consider a sword a man's weapon. You can't hide it, and you'd be facing death at point blank range.
Pet Peeves
Long lines. People have places to go, and a wait of more than three minutes just won't work.
People who try to tell you how to do your job when they've never done your job.
Compulsive talkers; I've been distracted from things I need to do on too many occassions because some people just won't SHUT THE HELL UP!!!.
Ignoring proven facts to make a point
Deciding what something is before looking at what it really is (jumping to conclusions)
People who refuse to admit the possibility they're wrong
People who assume you think the same way they do, then act like you're crazy when they realize you don't