In my last blog, I said I'm converting to the Orthodox Church. Well, since then, we've gotten a shock.

The church I attend is under Russian jurisdiction, the same church that granted the American church autocephalacy. The top man in the Russian Church is the Patriarch, who has final authority over everything except canon, in which he answers to the Patriarch of Constantinople.

Yesterday morning, His Holiness, Patriarch Alexi II of Moscow and All Russia was received into the Arms of the Lord.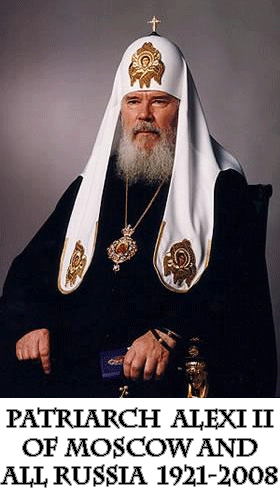 He took the position in 1990, just before the failed Soviet coup that led to the fall of the Soviet Union. As the Soviets had suppressed all religion, he was in the position of restoring the faith to the nation.

Some time prior to his ascension, he heard that a convent in his home country of Estonia was to be closed down. Despite an agreement with many Soviet political views, he opposed many such actions and was successful in saving the convent.

After his ascension, he established reunion with a group that splintered from the Church of Russia after the Soviet Revolution of 1917.

Sorrow was expressed by Pope Benedict XVI.